Hey everyone, Mike here again. It's been an incredibly busy week as we put the final touches on some projects that will make their debut at the HandMade Market in just a couple of days. One of these projects is a rolling cart with fold down arms which we have clad with some beautiful maple plus we have added some rejuvenated steel hardware.
It took a long time to reach completion from when we first started it but it has turned out so well. We have made a couple more tables and a few more accessories that are all turning out just as we had envisioned them (which I must say is very rewarding when it happens…). And for those who read the last blog, we have put the finishing touches on the light I was working on too. Check it out…
Of course with preparing all this wonderful new stuff comes the need to find creative and fun ways to display it all. Julie has been working tirelessly on designing and creating fantastic additions to help us display as much of our furniture, lights and accessories as we can… plus many of her paintings too (by the way, she has recently finished the last two works in her Niagara House Project and they are great!).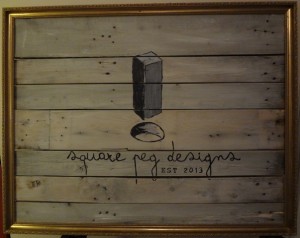 We are especially excited about the way our new sign turned out. Julie had the idea to create a whitewashed wood sign, made of reclaimed pallet wood that would be framed by a big old frame she's been trying to find a new use for. It has a new use… and one that we are very proud of.
Anyway, the HandMade market is happening this Friday and Saturday at 13th Street Winery, located at 1776 Fourth Ave in St. Catharines. And we'll be there both days from 11 am to 7 pm. Come by and say hi and see what we've been up to lately!
Hope to see you there!