Hey everyone, Mike here. With the HandMade Market less than two weeks away we are busily working away on a few more projects that we are eager to show you. Lately we have been focusing on some tables and other items we think you'll love. Plus Julie has been painting away, creating some beautiful pieces as part of her Niagara House Project… Check out her site to see more about it (www.julieponesseart.com).
So with all of the table building and problem solving that comes with that (yes "level", I'm talking to you), I found myself missing the process of designing some of our lights. Today I decided it might be fun to revisit that experience and set out to design at least one more light in time for the HandMade Market (by the way, if you are curious about what that's all about, click here: www.handmademarket.ca). We had found a wonderful piece of live edge walnut a couple of months back, and it is proving to be the inspiration for this particular light.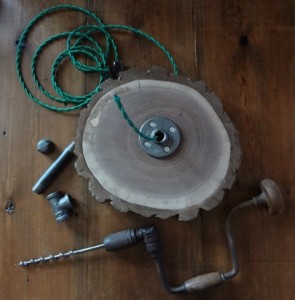 The rings in the wood provide a perfect frame for where the light will rise up. I am pretty excited about how it is turning out so far, plus I have chosen to use a green cord which I always enjoy… Here's a picture I shot earlier.
We'll post the finished product on the website as soon as it's finished or you can come out and see it yourself … unless someone buys it first. But then, I'm kind of attached to this one, but then, I often say that about the things we create.
Hope to see you out at the HandMade Market at 13th Street Winery on May 9th, and 10th!