Hey everyone,
We're a little overdue for an update I'll admit but it sure has been a busy spring at Square Peg Designs. We have been up to quite a few different things and it's been great to see the response that we are getting from you all as we get out to some of the Niagara area markets. Plus we have been working on a few special projects too for some new friends too…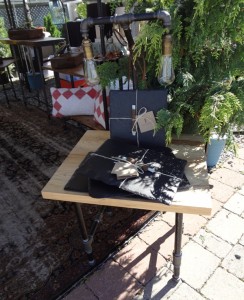 But I'll wait and write a couple of blogs over the next couple of weeks about those individually as opposed to glossing over them now. So stay tuned…
Over the weekend we enjoyed the hospitality of Vermeer's Greenhouses in Welland for the Heirlooms Artisan Market. We enjoyed meeting all of you who came out to see us and even saw a few familiar faces… Your support is just great! Plus the beautiful sunshine and warm temperatures made for a fantastic day.
Next up is an appearance at the Niagara-on-the-Lake farmers market and antique market on Saturday, July 5. We hope to see you there!